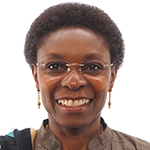 Pascale Allotey
Professor Pascale Allotey is the Director of the United Nations University International Institute for Global Health (UNU-IIGH) (https://unu.edu/experts/pascale-allotey.html). She has two decades of experience as a researcher in global health including multidisciplinary background, and experience working across four continents to promote health and well-being. Prior to joining UNU, Prof. Allotey served as Professor of Public Health and Deputy Head of School (Research and Development) at the Jeffrey Cheah School of Medicine and Health Sciences, Monash University (Malaysia). She also was head of the Global Public Health unit and founding Associate Director of the South East Asia Community Observatory (SEACO, Malaysia). Her previous experience includes Professor of Race, Diversity and Professional Practice, Brunel University (United Kingdom); Lecturer and Senior Research Fellow at the Key Centre for Women's Health, WHO Collaborating Centre for Women's Health, University of Melbourne (Australia); and Lecturer in the Tropical Health Program, Australian Centre for International and Tropic Disease and Nutrition, University of Queensland (Australia). She holds a PhD in Public Health and a MMedSci degree in Community Health from the University of Western Australia.
Frequently Asked Questions
How can I attend the TDR MOOC on Incorporating an Intersectional Gender Perspective in Implementation Research?
Attendance to this TDR MOOC is by invitation only. Sessions of the MOOC will be held in all WHO regions. To register, please send your request to https://go.unu.edu/0e5mins.
Does this MOOC session deliver a certificate or do I get academic credits?
If you complete the module and achieve 80% of the final grade, you will receive a certificate of satisfactory completion signed by representatives from both WHO/TDR and the academic institution with which TDR has organized the particular session of the MOOC in your region or country. This MOOC does not deliver university credits. You will receive your certificate by email, shortly after the end of the course. For this MOOC, the platform does not issue a certificate automatically.
Is this TDR MOOC session free?
The MOOC is completely free. You can also leave the MOOC at any time without penalty.
How long is the TDR MOOC on Incorporating an Intersectional Gender Perspective in Implementation Research?
The TDR MOOC will last approximately 3 weeks. Beginning on the course start dates, content will typically be released to participants in weekly "chunks." Once content for the week is posted, participants can engage when they have time to do so. Content will not disappear once a week is over.
Is the MOOC session taught live? Do I need to connect in at a specific time or can I participate when it is convenient for me?
The TDR MOOC on Implementation Research is not live-streamed. Participants do not need to log in at specific times of day to participate and watch the videos, which means that you can take a MOOC in a way that is convenient for you. However, we recommend that you keep up more or less with the weekly schedule.
Do I need to complete each week's material before the following week begins?
Not always and it depends on what works for participants. However, we recommend that you complete each week's material before going to the next.
Are there tests, where and how do I take them? How can I find out the course schedule and how much work the MOOC will be?
Yes, there is an assessment to be taken at the end of the session. The course schedule is provided on the course site and the estimated study time for the MOOC session is 2.5 hours a week.
© WHO 2018
This e-learning training was developed by TDR in collaboration with WHO. The training is intended as a self-learning course on Implementation Research.
All reasonable precautions have been taken by WHO to verify the information contained in this e-learning. However, the e-learning is being distributed without warranty of any kind, either expressed or implied. The responsibility for the interpretation and use of the material lies with the reader. In no event shall WHO be liable for damages arising from its use.
The authors alone are responsible for the views expressed in this training package and they do not necessarily represent the decisions, policy or views of the World Health Organization.